Share Border Patrol: Assaulted on the Front Line Assaults on Border Patrol agents up 73 percent in 2017, prosecutions lowBy Charlotte Cuthbertson December 26, 2017 Updated: January 2, 2018  QualityAuto 1080p720p480p360p240pRewind 10 SecondsNext UpLive00:0000:0000:00ChromecastClosed CaptionsSettingsFullscreen  click to watch video Follow Charlotte on Twitter: @charlottecuthbo  LINKEDINPINTERESTREDDITTUMBLRSTUMBLEUPON   US Features Show Discussion WASHINGTON—Border Patrol agents routinely face drug traffickers, cartel and gang members, human smugglers, and other criminals crossing illegally into the United States. They get rocks thrown at them; they're shot at, punched, kicked, and beaten. The agents are the first line of defense against the illegal flow of people and contraband—most of which crosses the 2,000-mile southwest border. And assaults against agents are shooting upward as the border tightens and people get more desperate to evade Border Patrol.Assaults increased along the border by 73 percent in fiscal year 2017, with 786 cases of assault on a Border Patrol agent reported, compared with 454 in fiscal 2016. The Rio Grande Valley Sector in Texas is the most dangerous for agents, with 357 assaults recorded in fiscal 2017 up to the end of August—almost triple the number there in fiscal 2016 (134 assaults). Customs and Border Protection (CBP), under which the Border Patrol sits, was reticent about the reason for the spike. "We won't speculate as to the cause for the increase," a spokesperson said. However, Chris Cabrera, Border Patrol agent in the Rio Grande Valley and spokesman for the National Border Patrol Council, said he sees several factors behind the increase. One is a lack of manpower.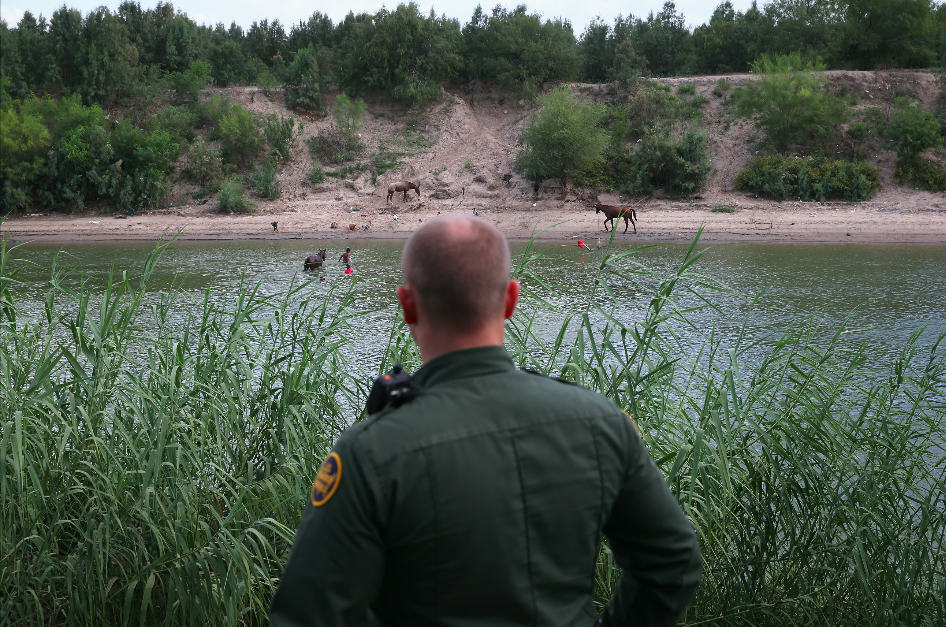 A Border Patrol agent looks towards Mexico from the bank of the Rio Grande near McAllen, Texas, on Sept. 8, 2014. The Rio Grande Valley area is the busiest sector for illegal border crossings into the United States. (John Moore/Getty Images)The Rio Grande Valley sector has the highest flow of illegal crossings in the country. In fiscal 2017, the vast majority of the almost 304,000 illegal border crossers came through this sector. Many of them were classified as unaccompanied minors and family units (at least one adult and one child), who seek out the Border Patrol so they can be processed as asylum cases and gain entry to the United States."Many agents are being pulled into the station to process these unaccompanied [minors], and women and children that are coming across, so we don't have as big of a footprint out in the field than what we'd like to have," Cabrera said. Agents often work alone in the field, but they remain in constant communication and request backup whenever they're responding to activity. The current 19,437 agents is well short of the 21,370 congressionally mandated positions, and President Donald Trump wants an extra 500 agents in 2018 on top of that. He has earmarked $300 million in his fiscal 2018 budget to recruit, hire, and train 500 new Border Patrol agents. The fiscal 2017 budget for Border Patrol was $3.8 billion.Although the total number of illegal border crossings are lower this year—mostly due to the Trump administration's focus on stopping illegal immigration—the numbers since May have steadily climbed back up to similar levels seen in the last several years. Cabrera said in a congressional testimony in March 2015, that "at best, we apprehend 35 percent to 40 percent of the illegal immigrants attempting to cross. This number is even lower for drug smugglers, who are much more adept at eluding capture."He said last week that he believes that percentage hasn't yet increased. Justice SystemAlthough more boots on the ground would make a big difference, Cabrera's main beef is with the justice system for not cracking down on those who do assault agents. "The assistant U.S. attorneys are pretty soft on criminals who assault our agents," he said. "So they choose to assault our agents because they know they're not going to face any jail time if they do."Assaults on Border Patrol agents are investigated by the FBI, who present the cases to the relevant assistant U.S. attorneys.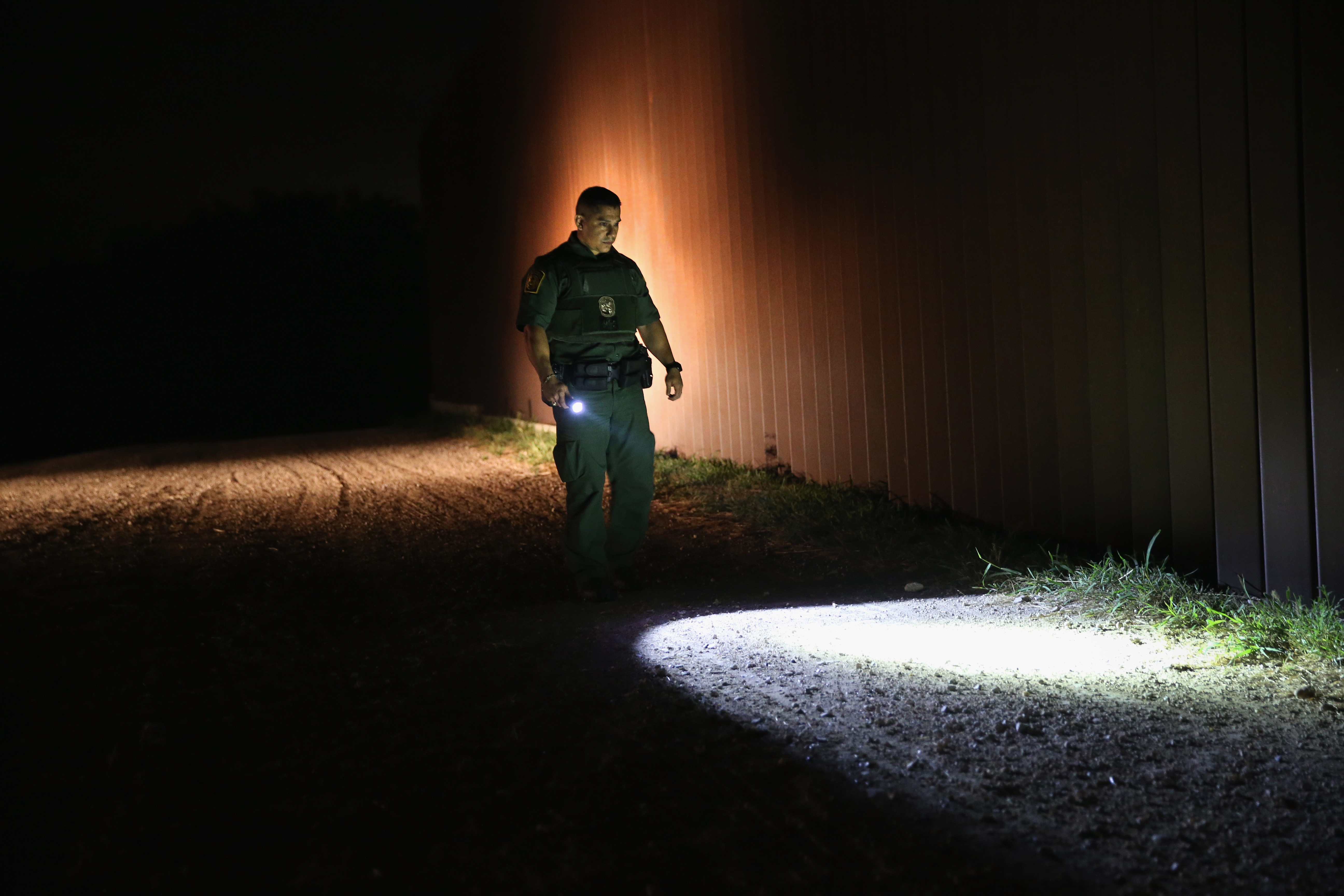 A Border Patrol agent checks for illegal immigrant tracks near the border fence along the Rio Grande in Weslaco, Texas, April 13, 2016. (John Moore/Getty Images)The 2016 statistics from the FBI show that 476 suspects were identified in 503 assaults on all Department of Homeland Security officers (including Border Patrol, Secret Service, and CBP). Of the 476, only 19 had dispositional information available. Of the 19 suspects, seven were awaiting trial; four were fugitives; four were found guilty; three had their prosecutions declined; and one was found not guilty or had their charges dismissed. The FBI did not respond to questions about the remaining 457 suspects. In fiscal 2017, the number of offenders referred to prosecution was much higher (184 out of 403 alleged perpetrators), according to CBP numbers. In the Rio Grande Valley, where 357 assaults were reported in fiscal 2017, a total of 26 defendants faced charges in the Texas Southern district, according to a Justice Department official.Much of the discrepancy between assault numbers and prosecution numbers has to do with cases in which the assault occurs and the suspect then flees back to Mexico, according to a source familiar with assaults on federal law enforcement and prosecutions. "If they are never apprehended, it's impossible to prosecute. Further, if they do attempt to return, there's a high likelihood that we'll never know that they committed said assault, which decreases the likelihood for that charge," the source said. "There are also instances where federal prosecutors have multiple charges that they can bring on the defendant, but possibly can't meet the burden of proof on the assault, so that will be dropped."A Justice Department official said the department is looking at ways to increase collaboration and communication with CBP. In April, during a visit to Nogales, Arizona, Attorney General Jeff Sessions told CBP employees that the administration has their back. "Finally, and perhaps most importantly, I have directed that all 94 U.S. Attorneys offices make the prosecution of assault on a federal law enforcement officer—that's all of you—a top priority," Sessions said on April 11. "If someone dares to assault one of our folks in the line of duty, they will do federal time for it."The maximum penalty is eight years in federal prison and a $250,000 fine. But Cabrera said Sessions's message hasn't filtered down to the Rio Grande Valley yet. "He put it out there. Apparently, for whatever reason, it's not being enforced. It is little by little, but not nearly the way it should," Cabrera said."It's like pulling teeth with these [prosecutors]; they don't want to take these cases because there's not enough blood or there's not enough damage to the agent. There doesn't have to be a required amount of blood or broken bones or missing teeth for them to prosecute."He said heavily prosecuting people who assault agents would act as a deterrent. "If you know you're going to spend a year in jail for putting your hands on a Border Patrol agent—or any federal agent for that matter—you'll think twice before you do it," he said. Use of ForceAlthough assaults on Border Patrol are up, agents are using less force than in previous years. The number of incidents of Border Patrol agents using force—including a firearm or less-lethal devices such as batons or pepper spray—are down from 519 incidents in fiscal 2016 to 398 in fiscal 2017. Agents used a firearm 17 times in fiscal 2017, much fewer than the 55 shots fired in fiscal year 2012. The Rio Grande Valley and Tucson, Arizona, sectors are the most dangerous.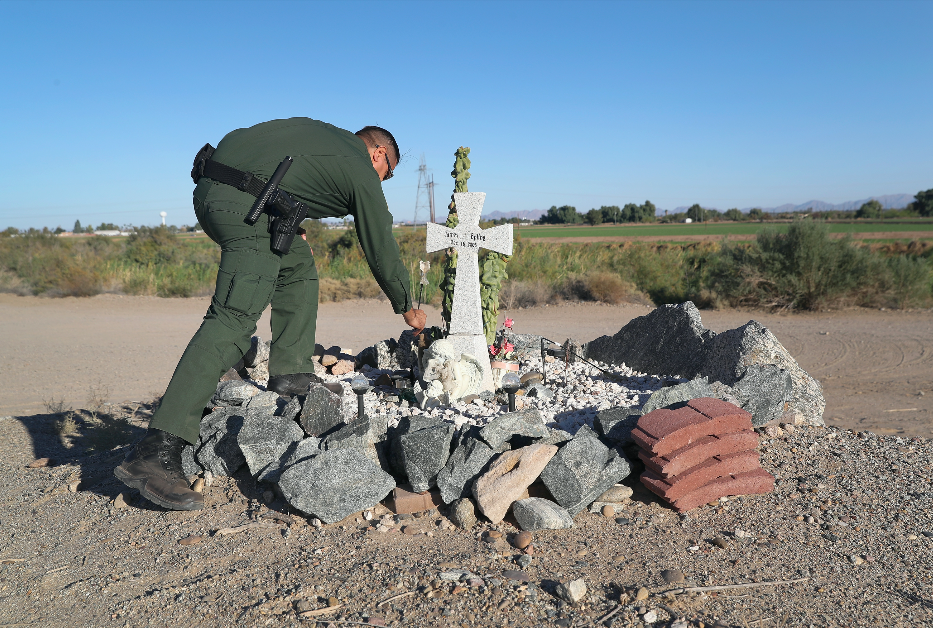 A Border Patrol agent adjusts adornments on a memorial for fallen agent James Epling in Andrade, Calif., on Nov. 17, 2016. (John Moore/Getty Images)In the Line of Duty"It's a frightening feeling when one of your coworkers is murdered," said Border Patrol agent Chris Cabrera. "It's nothing that anybody wants to go through, especially with the family and the holidays are right upon us. But … we do the best we can to make sure that we all come home safe at the end of the night."A MurderAgent Rogelio Martinez was killed and his partner was seriously injured while responding to activity in Big Bend Sector on Nov. 18. Both agents sustained traumatic head injuries, along with other miscellaneous physical injuries. Martinez died early the next morning, on Nov. 19.The FBI is investigating the incident, and a search warrant suggests the two agents may have been assaulted by illegal aliens with rocks.Assault in ArizonaOn Thanksgiving Day, an agent from the Casa Grande Station was assaulted by a 17-year-old male Mexican national near Vamori, Arizona.The agent was working alone when he encountered three male Mexican nationals south of Sells, Arizona, early that evening, according to a press statement. While attempting to detain the group, the teen became combative, forcing the agent to use his pepper spray to complete the arrest.Assault in TexasOn Oct. 27, Miguel Cabrera-Rangel was sentenced to eight years in federal prison for assaulting a federal agent in the Rio Grande Valley.While a Border Patrol agent was investigating a report of possible illegal aliens on a ranch near Hebbronville, he came upon a group of aliens and attempted to apprehend them. Cabrera-Rangel was one of them and engaged in a struggle with the agent, ultimately gaining control of his service flashlight. Cabrera-Rangel then punched the agent in the face and struck him with the flashlight, causing a bilateral fracture of the nose along with lacerations and contusions.Cabrera-Rangel will face deportation proceedings after serving his time.Deadly WeaponOn Oct. 19, a resident of Benavides, Texas, was sentenced to seven years in federal prison, followed by three years of supervised release for assaulting a Border Patrol agent by use of a deadly or dangerous weapon.Oscar David Gonzalez II, 24, used the car he was driving to intentionally smash into the driver's door of a Border Patrol car while attempting to evade arrest.Assault Requiring SurgeryOn Oct. 23, illegal alien Roman Sanchez-Rivera, 27, was sentenced to four years and three months in federal prison for assaulting and injuring a Border Patrol agent. He was also ordered to pay $21,610.14 in restitution to the Department of Labor.Agents encountered Sanchez-Rivera and other illegal aliens in the brush near Encinal, Texas. The aliens ran but were soon apprehended. During the arrest, Sanchez-Rivera punched one of the agents in the face, causing injuries. He also forced an intense physical struggle that resulted in serious injuries to one of the agent's knees, which required surgery.Sanchez-Rivera will face deportation proceedings after serving his time. Melania Trump's First Year as First Lady Share this article A Border Patrol agent leads an illegal alien out from the brush after capturing him near the U.S.–Mexico border at La Grulla, Texas, on Dec. 10, 2015. (John Moore/Getty Images)
read more